Renew your vehicle registrations and more!
Complete transactions in 3 simple steps: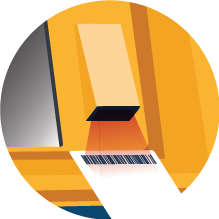 1. SCAN
Scan your document or type your information.
2. PAY
Pay your fees via card or cash (where available).
3. PRINT
A registration card and sticker, PNO acknowledgment, or receipt is printed on the spot!
To learn about which transactions are offered and what to bring to a DMV NOW kiosk, visit the FAQ page.